Welcome to my TV page!
Welcome to my site!
I started this page several years ago so I could share some pictures of my collection of 1950's portable TV sets. Since then I have accumulated many more sets including quite a few sets from the late 1940's, some Electrostatic sets and also a 1958 RCA COLOR ! set
My interests include any set built between 1946 and 1959 with my main focus on the smaller table-top sets.
I like the large floor model sets too but due to their size I have only a few.
Feel free to look around, click on the links to the left to see the sets.
I am looking for a particular model of General Electric TV, please click on the link and have a look Have you seen this set?
<-- Click on the links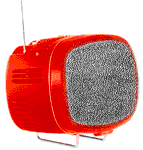 E-mail