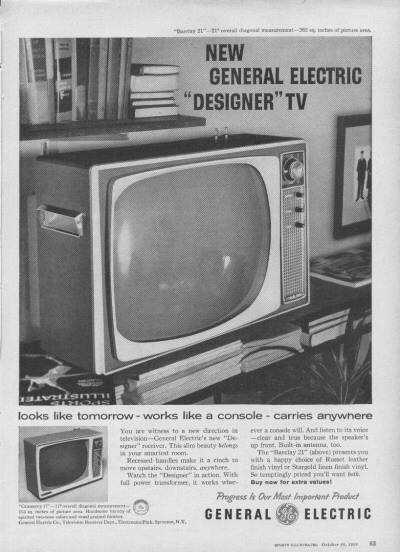 I have this set at last, not only that but it works and has the factory stand!
It's pretty dirty in here and there's some rust, this set has been rained on at some point.
The big sticker on the picture tube shows it was replaced in 1964
this tube is worn out, I have another one to install after I get done with the chassis.
I removed the chassis for cleaning, the cabinet will get a bath too.
The bottom of the cabinet is steel, the rest is Aluminum covered with a vinyl coated fabric.
After I remove the plastic face I'll use Naval Jelly to clean up the rust, then a couple coats of
Grey paint will make it look like new again.
The Sweep Chassis looks a lot better after getting a shower.
I used dish soap and a paint brush to clean it, then rinsed it with hot water.
Most PC board circuits are pretty impervious to water as long as there are no paper parts.