1957 GE 9" Portable
Model 9T002
---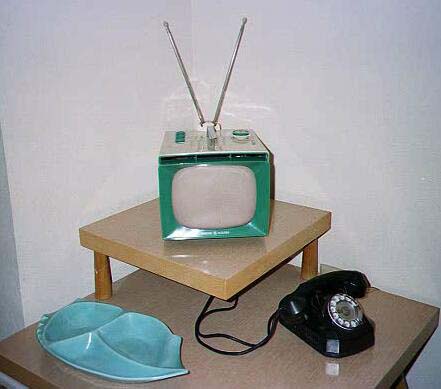 A neat little micro (by 50's standards) Television from General Electric. The metal body is painted White over Blue, and the plastic front bezel is Green, a very nice combination!
A very light weight set, it weighs in at around 13 lbs. A fact that was touted in GE's advertising at the time.
A tag on the picture tube indicates that it was replaced around 1960, just three years after the set was made. This tube still checks good almost 40 years later.
I have replaced all the small paper capacitors, the filter caps seem to be working OK for now, so I will leave them in for the time being.
This set is not a terrific performer, the picture quality leaves a lot to be desired. I'm not sure if it still has something wrong, or if it is characteristic of the model as it is a rather cheaply built set. I really don't care though, the set looks so neat I wouldn't care if it didn't work at all!