Updated 4/16/2009
1946 RCA
Model 621TS, RCAs first postwar set.
---
17,000? were built, how many are left?
The total is up to 73 however I don't have serial numbers for all the sets so I can't be sure some haven't changed hands and been listed twice.
Serial numbers at this point are ranging from around 1500-20800, there are some 630TS sets that fall into that range as well.
<![if !vml]>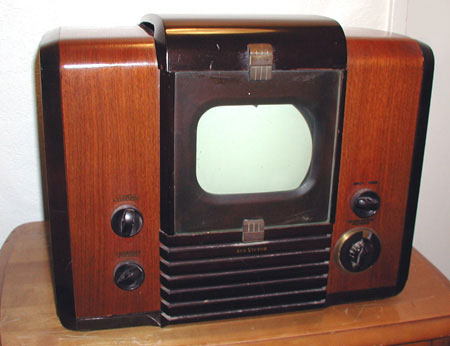 <![endif]>I've been working on getting this set running again and after replacing many of the capacitors it's working pretty well! Video1 Video2
My basic goal is to find out how many of these sets are still around, beyond that I would be interested in finding out where in the world they ended up, what condition they are in and the range of serial numbers.
My set is number C008090, right smack in the middle of production assuming a linear numbering system.
If you own a 621 and would be interested in participating in this project please drop me a line here: E-mail
Information requested would be your Name, E-mail address, State or Country, Condition of set (working, not working, parts set, basket case...) serial number (general range will be fine if you prefer not to give an exact number,i.e. 500-1000 or 5000-5500 etc...) Pictures are most welcome, I might have a photo gallery if there is enough participation.
All personal information will be kept confidential.
A big thank you to everyone who has sent in information on their set. †
I try to respond directly to everyone who writes but I may inadvertently overlook someone from time to time so if I havenít replied to your message please forgive my oversight.
---